Big, Ridiculous Softie
I'm pretty well convinced that as my belly grows, so do my hormones and my capacity for immense amounts of Sobby McWeepsalot impressions. And it really doesn't take much. Seriously.
On Halloween day, the Today Show hosts all dressed up as members of Britain's royal family at the big wedding...and I cried when the fake bride got out of the fake limousine for the fake wedding.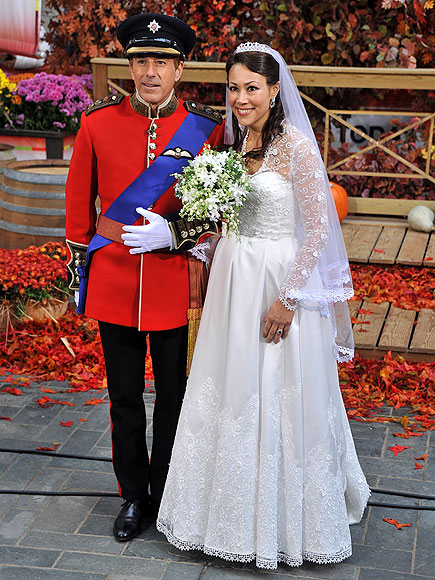 I have countless stories of the funny things that made me cry when I was pregnant with the iToddler. Ridiculous things. I'm not talking Sarah McLaughlin and her "I'll-ruin-this-song-forever-for-you-by-letting-the-ASPCA-use-it-to-show-shelter-animals-on-their-way-to-the-Ranbow-Bridge". Not even Extreme Home Makeover (and for the record, I can't make it through a commercial, much less a whole episode).
No, we're talking about episodes of Dirty Jobs. Key changes in a Taylor Swift song. An episode of My Sweet 16 where Timbaland's son gets a Lamborghini.
Dumb.
But now and then something reminds me of real life. Tonight, I saw a picture of a friend and her very very new baby (like just hours old, if that) and was immediately thrown back to when the iToddler was in my arms for the first time. The wonder, the fear, the thankfulness, all the emotions just came rushing back. We were standing in the kitchen at the time, and my girl said "Mommy, I like music! Can we dance?" So I turned on Spotify and hit shuffle, and this song came on.
http://www.youtube.com/watch?v=puKH5f37VLM
She reached up for me to pick her up, and despite all my pelvis pain, I obliged and we danced. She smashed her cheek into mine and we danced as she sang along to "Twinkle Twinkle Little Star" and rubbed my shoulder. I didn't even try to wipe away the tears. Then she put a tiny hand on either side of my face and looked me straight in the eye and kept singing as we danced slowly in the kitchen.
God, I love this girl.
We went upstairs to lay her down for the night and I suddenly remembered that this is the last night she'll be in her crib. Sean and I had decided earlier this week to move her over to her big girl room after a weekend of getting it ready enough for occupancy (still so much work to do).
So this is it, I thought. This is the last time I'll lay her in this crib. Ever.
I sat her on the crib railing for support and held her tight. She held me tightly, too. I rubbed her back in circles and felt her tiny hand do the same to me. I whispered, "I love you, baby" in her ear and she looked at me and said, "I love you, Mommy. I go to sleep now."
End scene.
Why is this so emotional? It's a crib, for crying out loud. But after 2 years, we're going from a world filled with nothing but firsts, to one speckled with increasing numbers of lasts. Last nursing session, last time she refers to Mickey Mouse as Mimi, last time I lay her down in that room, in that crib.
Maybe it's hormones. Maybe it's lack of sleep catching up with me. Maybe it's just...motherhood.
Whatever it is, I'm okay with it. Just don't judge me when I wake up Friday morning in that big girl bed with her because I just wasn't quite ready to let go.